(Et vous vous en foutez?)
C'est bien normal, tout le monde ne peut pas être branché foot comme les Allemands... Pour ma part j'ai regardé presque tous les matchs jusqu'à présent, en plein air, dans des bars, dans des appartements, entourés de Berlinoises qui faisaient des commentaires à chaud que je ne comprenais pas plus que les commentaires de la télévision, ou bien chez moi, en faisant du point de croix, peinard.
L'apprentissage par immersion, il n'y a que cela de tel.
Et j'ai fait mes propres observations, si vous voulez tout savoir.
Vous voulez savoir?
Bien.
Voici.
* Il est devenu parfaitement normal, quand on croise quelqu'un que l'on n'a pas vu depuis longtemps, de parler football pendant une demi-heure, puis seulement de s'enquérir sur comment on va.
* Je suspecte Gomez de ne pas être humain. Il est parfaitement beau, il semble ne pas transpirer et sa coupe de cheveux reste suspicieusement impeccablement gominée même quand il marque avec la tête. Je le suspecte d'être un extraterrestre recouvert de peau humaine qui devait infiltrer la Terre pour la détruire, mais finalement a préféré devenir joueur de foot parce que c'était plus lucratif.
* Quand on en vient au foot, les équipes allemandes et néerlandaises ne peuvent pas se saquer. Mais vraiment pas. Apparemment ça
remonte loin dans l'histoire
. Le match Allemagne-Pays-Bas était plus tendu que le match Allemagne-Grèce.
Au point que, bon...

* Les supporters suédois et ukrainiens sont relativement identique. Ce qui, avouons-le, n'était pas très pratique pendant le match Suède - Ukraine. C'est pourtant simple, me direz-vous:
Ici nous avons des Suédois:
Et ici des Ukrainiens:
Ouais.
* Les commentateurs allemands se sont tus pour écouter tout un stade d'Irlandais chanter "
The Fields of Athenry
", lors des 6 dernières minutes de jeux, alors qu'ils étaient en train de se faire éclater 4-0 par l'Espagne. Mais ce moment de gloire musicale folk s'est très vite fait éclipser par le fait que Shakira était dans les tribunes et envoyait des bisous à son amoureux de l'équipe espagnole.
* Wayne Rooney (joueur que je n'apprécie guère, précisons-le) s'est fait faire des
implants capillaires
. Et bon, du coup, il a peur de frapper la balle avec sa tête. Ca ne l'a pas rendu plus sexy, mais par contre maintenant qu'est-ce qu'il se la pète.
* Vous serez contents de savoir qu'à chaque match de la Mannschaft, nous avons droit à ceci (même si le partenaire officiel est Hyundai):
Et que je reconnais tous les joueurs qui apparaissent dans cette pub. Même ceux qui sont sensés être sur le bench.
* Une petite touche d'humour à l'approche du match Allemagne-Grèce: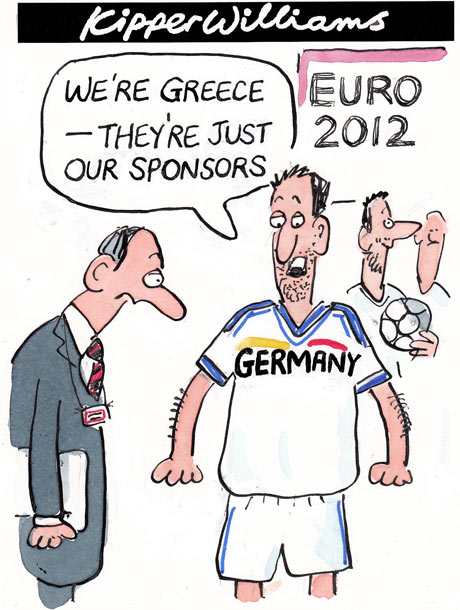 * Et une petite touche d'humour après le match Angleterre-Italie
* Un supporter italien, quand il gagne et qu'il a une voiture, qu'est-ce que ça fait du bruit.
* Et avec tout cela, je sens qu'on va se retrouver avec une finale Allemagne-Espagne, que je serai à fond pour l'Allemagne mais qu'en même temps je baverai à chaque fois que la caméra s'arrêtera sur Casillas. Et accessoirement que ce jour-là je serai à un mariage et que je trouve un moyen poli et discret de voir la chose.